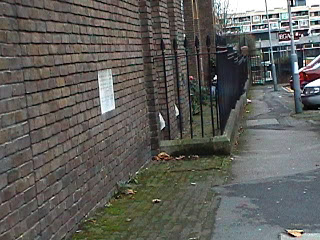 This is the possible site of Penny's Folly or Busby's Folly, one of Islington's many pleasure gardens. It is now Risinghill Street. I thought this a strange name for a street 20 yards long. The etymology suggests a site of pagan worship. It sits just off Penton Street. 'Pen' is Celtic for hill, and 'ton' means spring or rising ground.
Peter Ackroyd has a hypothesis that the London mounds such as Penton Hill are the holy sites of Druid Ritual.
The presence of St Silas' Church in the street almost confirms this hypothesis as the christ cult had a habit of appropriating Pagan sites.
london