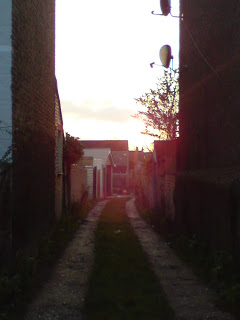 Set off with no aim other than to head in the general direction of Baker's Arms – by the most indirect route practical.
Avebury Road always has a certain appeal, the romance of it and only this evening did I spot the compatibility of its conjunction with Southwest Road.
Further up off Bulwer I again clock Hawbridge Road and I play amateur etymology conjoining the prefix 'Haw' = the fruit of the sacred Hawthorne with 'Bridge' to suppose that this was a bridge over the Fillebrooke (PhillyBrook/ Phepes Broke). A rummage in W.H. Weston's History of Leyton and Leytonstone shows a hand-drawn C18th map with the stream running southwest (road?) from Whipps Cross to Ruckholt – a course that would cut through Bulwer. This could have been the Haw Bridge. Another piece of pagan symmetry arising from the Fillebrook is where it once ran through or beside Coronation Gardens in Leyton is today a maze – a pagan symbol of springs and places of worship.
View Larger Map
google map showing the possible course of the Phillybrook – a windmill was recorded as sitting on the banks of the stream where the corner of Francis and Newport Roads is today
I pick up a track off Bulwer Road that runs between backs of houses. There are lock up garages for rent and fly-tipping so elaborate that it borders on installation art – Jeremy Deller recreating a liminal space as a site-specific piece.
The sunset breaks orange over the Lea. A large crow squawks. There's a tyre in a shopping trolley waiting patiently outside a phonebox in front of an electricity substation.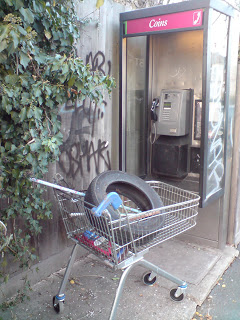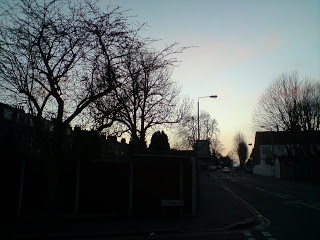 Around the corner in Forest Road there is an absolutely majestic example of the architecture of the electricity substation. These things are like temples to the industrial age. Somebody please do a photographic project on them.
slideshow of photos from the walk

In West End Avenue (where the Fillybrooke was last seen above ground) you can see the back of a large abandoned wing of Whipps Cross Hospital with a noughts and crosses pattern of smashed windows.
It is bitingly cold and I'm a bit peckish but I push on over Lea Bridge Road and along the beguiling Shernhall Road with its amazing views across the Roding Valley and the Lord Raglan pub that encouragingly allows no caps nor hoods. I turn back at the end and head down Addison Road which delivers me to the warmth of The Village pub in time to catch the football results come rolling in.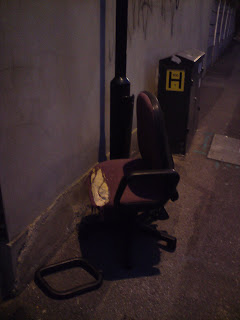 london