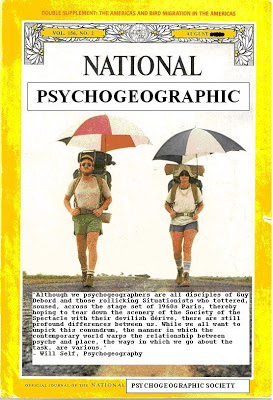 I went to the V&A the other week to catch Iain Sinclair and Will Self having a discussion about psychogeographic(al) writing. I should have blogged this ages ago, well 2 weeks ago when it happened, I know that's the point of blogs. I'm not an obsessive blogger as you'll be able to tell by flicking through previous posts.
Here's a quick précis what was said.
Iain Sinclair again talked about the psycho-politics that he encountered in the mid-sixties. He'd brought this up at the 'Ah Sunflower' screening last year, by way of explaining his route into psychogeography. And also mentioned that at that time he'd been far more interested in Alfred Watkins than Guy Debord and was doing loads of Ridgeway walks right up to the time of writing 'Lights Out for the Territory'. By way of a self-indulgent adjunct here, my own psychogeographic work in High Wycombe led me out to the Ridgeway by applying Sinclair's idea of 'nodules of energy' to my home town. He neatly sums up the main thrust of psychogeographic writing as "the quest for quests".
Will Self talks about the "power of walking's destructive ability to destroy the fabric of how we are meant to live in cities." This has a distinctly Debordian tone, and I might have misquoted him there as I can't imagine such a skilled wordsmith using 'destructive' and 'destroy' in the same sentence.
Sinclair then invokes an older tradition, DeQuincy's idea that within the labyrinth of London there is a north-west passage that takes you out of the city. A theme that was later picked up by Machen I think, in the 'London Adventure'.
Iain also talked about the role that Thatcherism played in the psychogeographic revival of the late 1980's as a form of "resurrected tools of resistance, psyche was summoned up".
It was interesting to sit and listen with the other Magus of the Edgelands – Nick Papadimitriou. Both Iain Sinclair and Will Self mentioned Nick's name at various points, the only person they both cited except for Debord. Nick resolutely denies the term, 'psychogeography' and deploys 'psychogeographer' as a pejorative with the same intensity as others invoke old English names for the female sex organs.
Nick was partly the reason for me not posting sooner. We had a day out filming for the documentary about him and his work. Reviewing some earlier footage I had come across him talking about Will Self's 'Interzone' project from the 1980's after I spotted a photo of a young Will leaning against a chainlink fence at Erith Marshes.
I've been mucking around with a website for National Psychogeographic, which although incomplete will grow, so by all means contact me with suggestions for content info@nationalpsychogeographic.com
london