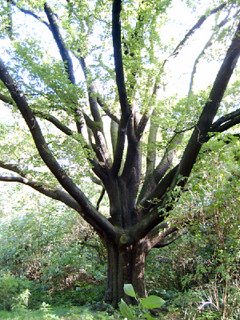 We cross onto the flats from Bush Road near a tree which has had its trunk burnt hollow. My 3 year-old explores. Into Wanstead Park over a dried-up brook (Aldersbrook?). We come before a mighty oak, the kind that arouses pagan senses. H says "It's just so feminine, it's fertility, like legs spread open".
We come to the Heron Pond where the light reflects off the water and ripples on the underside of the leaves of a low hanging oak. Wanstead House is gone but the avenue of trees remains to the Temple.
The grand house that was visited by Elizabeth I, Samuel Pepys, Horace Walpole, from where Mary Tudor rode into London to be crowned, gone, a grassy mound. Joggers and cyclists, two power walkers with iPods. "Several Martyrs were sought out from the Forest during Mary's reign…. John Rogers the first of them…." ('Epping Forest', W. Addison 1945).